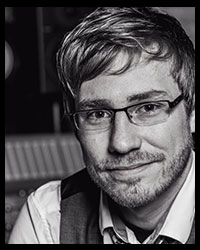 Chris is the Studio Manager and one of our 'Go To' engineers/producers for any project. As a manager, he is here to make sure you have anything you need for your session. He maintains a team of well-trained assistants who are very knowledgeable about the gear and will ensure your sessions run as smooth as possible. As a Producer, he's the guy who will 'breathe life' into your project. He maintains a great level of integrity, humility, and professionalism.
Chris was influenced by music at an early age and has been exposed to a variety of music his entire life from jazz to country to rock-n roll. In 2007, he ventured to Full Sail University in Orlando for degrees in Recording Arts and Music Business Management looking to launch his career in the recording industry. After moving back to Cleveland, Chris found himself under the mentorship of Lava Room Chief Engineer and owner, Mike Brown. Spending months of 80+hour weeks by Mike's side he quickly worked up a strong client base, and in 2011 was asked to manage the studio alongside his work as an engineer.
Chris's wide range of taste and a natural ear for music has made him a widely sought after engineer by artists locally, regionally, and nationally. He has tracked and mixed countless songs in the rock, country, pop, rap/hip-hop, gospel, jazz, and R&B genres. Having the opportunity to work with some of the biggest names in the industry (including Joe Walsh, Taking Back Sunday, A Day To Remember, Lil' Wayne, Young Jeezy, Nick Jonas, Welshly Arms, Castlecomer and more) has allowed Chris to learn from the best the industry has to offer.
No matter the project, no matter the style, you can rely on Chris to give you an industry ready product.
If you're ready to take your music and audio ventures to the next level, our team can help you every step of the way! Whether you're starting from scratch or are looking for a place to perform finishing touches, you can do so at Lava Room Recording, one of the best recording studios in Ohio.
Instantly browse our online booking options to secure your time slot or reach out to us today with any questions. We look forward to hearing from you soon!