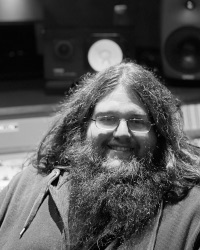 Ryan Barrett is an engineer well-versed in Rock and Metal music. He has a passion for working with bands to help them achieve their full potential.
Ryan's musical journey started at age 14, when he started taking guitar lessons at School Of Rock which helped build a healthy foundation of musical knowledge.  He later decided to pursue a career in Audio engineering.
After working as an intern at Lava Room Recording, Ryan decided to enroll in the studio's CSAR program (Cleveland School Of Audio Engineering). This ensured that his education came not only from people with technical knowledge, but also real experience in the music business. 
Since then, Ryan has worked on various music projects, podcasts and commercial work for the studio, as well as an integral part of the day to day operations.
If you're ready to take your music and audio ventures to the next level, our team can help you every step of the way! Whether you're starting from scratch or are looking for a place to perform finishing touches, you can do so at Lava Room Recording, one of the best recording studios in Ohio.
Instantly browse our online booking options to secure your time slot or reach out to us today with any questions. We look forward to hearing from you soon!