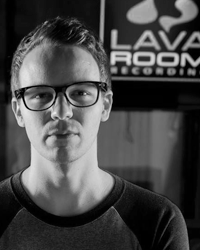 Growing up a multi-instrumentalist since the age of nine, Sam is well-versed in genres ranging from punk rock to modern pop and likes to take a hands-on approach to production and songwriting when working with clients.
Sam is a graduate of Case Western Reserve University's Audio Engineering program ('14).
If you're ready to take your music and audio ventures to the next level, our team can help you every step of the way! Whether you're starting from scratch or are looking for a place to perform finishing touches, you can do so at Lava Room Recording, one of the best recording studios in Ohio.
Instantly browse our online booking options to secure your time slot or reach out to us today with any questions. We look forward to hearing from you soon!