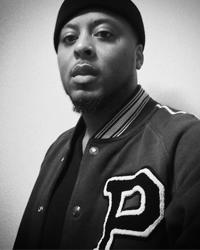 Sam Poetry is a Niagara Falls, New York native and has been recording and producing music since the early 90's. Influenced by what most call the golden era of Hip Hop and R&B, Sam's approach to producing records is minimalist, mainly using his Akai MPCX while focusing more on getting a great song and performance from the artist.
He gained expertise in production and audio engineering while enrolled in Tri-C's Recording Arts and Technology program, which led to him producing for Grammy nominated, platinum selling recording artist Raheem DeVaughn. An artist in his own right, Sam released his debut album Poetic Dope in 2018 and has performed to packed crowds throughout the U.S., including the House of Blues in Chicago and the Rock & Roll Hall of Fame.
It's been over 20 years since he began his musical journey and he's just as passionate now as he was then.
If you're ready to take your music and audio ventures to the next level, our team can help you every step of the way! Whether you're starting from scratch or are looking for a place to perform finishing touches, you can do so at Lava Room Recording, one of the best recording studios in Ohio.
Instantly browse our online booking options to secure your time slot or reach out to us today with any questions. We look forward to hearing from you soon!
23330 Commerce Park,
Beachwood, OH 44122